The HotShot coffee sleeve is one of the highest quality cup sleeves on the market today. Our sleeves are custom made from start to finish allowing for unlimited graphic design potential at a very affordable price.
We offer the most versatility for custom cup sleeves.
Whether you are just starting out or are well established with multiple locations we have sleeve options for you. We offer two classes of coffee cup sleeves balancing budget and needs for personalization. Choose from either our STANDARD Sleeves allowing for 1 and 2 color printing at an affordable price or go all out printing multiple colors with solid backgrounds using our PREMIUM coffee sleeve.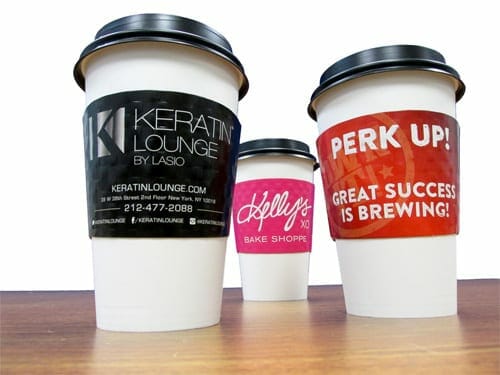 ---
What makes us the preferred coffee cup sleeve provider?
Need sleeves in a RUSH?
Not to worry...we have been known to work miracles! Standard turnaround times are up to 7 business days for up to 10,000 sleeves generally but we will always do our best to meet your requirements. We also offer a variety of shipping services.
Low Minimum Orders
Order as few as 1250 or as many as 500,000...we can handle it all. We produce all of our coffee sleeves to the same high quality standards.
We offer amazing color options
Whether you are looking for 1 color, 2 color or full color sleeves we offer solutions for all. We produce a wide range from simple designs to very elaborate designs including color photos and solid backgrounds.
Our sleeves use 100% Recycled Paper
We understand the importance of looking after the environment and for this reason our custom cup sleeves are made from 100% recycled paper fiber.
Amazing Colors & Options!
FEATURES
Unlimited colors with CMYK printing
Full bleed printing –Solid backrounds Ok!
Print around entire sleeve
Minimums as low as 1250
Prices starting at $345 (incl. shipping)
View pricing!
Easy Branding & Budget
FEATURES
Print in 1 or 2 colors
Printing in predefined print area
Front face and rear face printing -
No surcharge for 2 side printing!
Minimums as low as 1250
Prices starting at $192 (incl. shipping)
View Pricing!
---
Order as few as
1250
coffee cup sleeves
Did you know...We can
Offer FREE Design
Print 1,250 to over 500,000
Produce in a SUPER rush
Ship sleeves overnight by Air
Print multiple versions