Print full color CMYK and full backgrounds!
Bring your custom coffee sleeves to life with amazing full color graphics and logos. Our PREMIUM full color coffee sleeves offer unlimited personalization with full background printing, high resolution photos and graphics, and unlimited colors. You won't want to go back to a plain or Kraft sleeve once you achieve maximum brand recognition with a HotShot coffee sleeve.
[hr height="30″ style="default" line="narrow" themecolor="1″]
[three_fifth]
PREMIUM Cup Sleeve Features
30 Minutes FREE Design

time included.
3 sleeve sizes to choose from (12oz – 16oz, 10oz – 12oz, 8oz)
Print unlimited colors with full color CMYK offset printing
Full background printing possible(aka full bleeds)
Choice of semigloss or matte coating
Choice of embossed or non-embossed smooth surface (minimum 2500 for smooth)
23.2pt thick paper (100% recycled clay coated newsback CCNB )
For Kraft sleeves we do not print on actual Kraft paper, rather we print a realistic looking simulated Kraft background on our white paper
Split your quantity between multiple versions (extra costs and requirements)
[/three_fifth] [two_fifth]
Save 15% on Quantities up to 10,000!
Extend your turnaround time to 12-14 business days (after proof approval) and save 15% OFF the pricing.
Shipping time is not included. 15% Discount applies to PREMIUM 12oz-20oz sleeves only.[/two_fifth] [one]
Design
In-depth design requirements and templates can be found at How To Design
Our coffee sleeve template is quite different from others on the market and so consideration should be given to this when preparing artwork. It is best to consider our sleeve as having a front and back. Though full wrap background images are possible with our sleeve, designing for this can be a little tricky.
[one_third]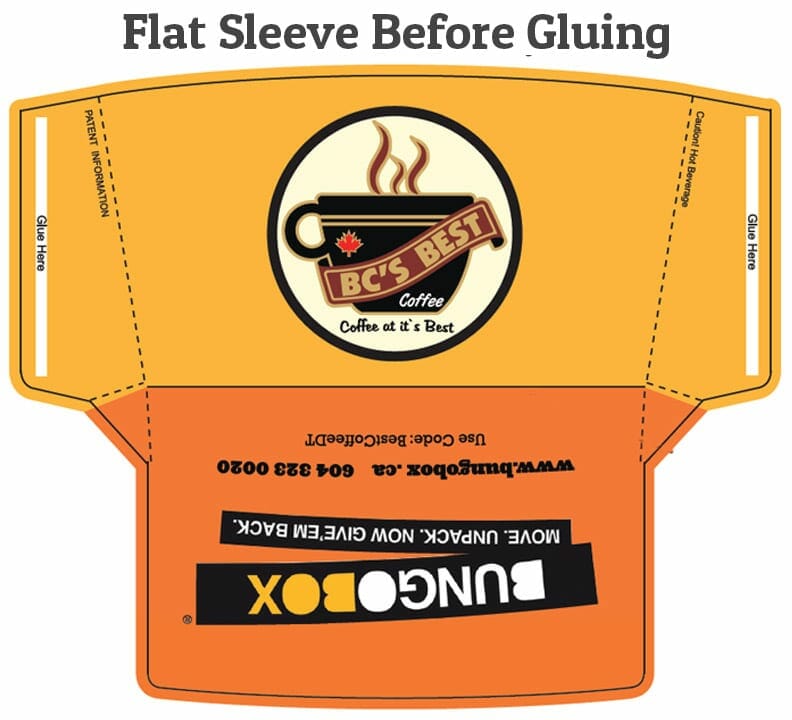 [/one_third] [one_third]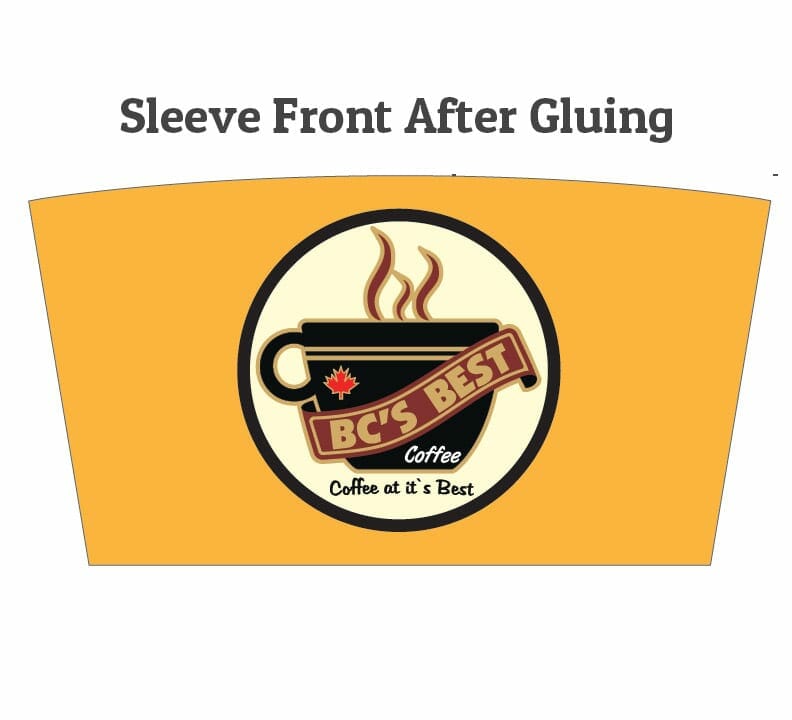 [/one_third] [one_third]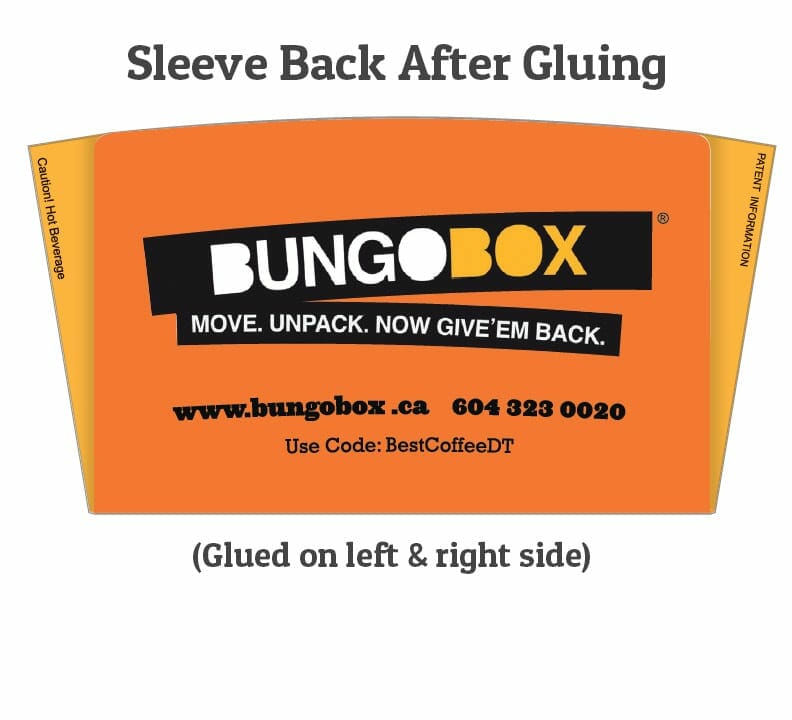 [/one_third][/one] [one]
Turnaround
Turnaround time refers to the number of business days to complete the sleeve after proof approval and payment of your order. (See Proofing tab for explanation of proofing times). Turnaround time does not include shipping time.
We offer the following production service levels
12oz-20oz Sleeves
5 – 7 business days for quantities up to 20,000 (regular production)
12 – 14 business days for quantities up to 10,000 (15% price reduction)
Rush / Fastest – As fast as 24 hour turnaround. Contact us for pricing
10oz-12oz and 8oz Sleeves
7 – 9 business days for quantities up to 20,000 (regular production)
Rush / Fastest – As fast as 48 hour turnaround. Contact us for pricing
In addition to RUSH production we do offer different UPS shipping services when faster delivery times are required,
[/one]