Custom Coffee Sleeves
We print cup sleeves for all budgets!
FREE Design & Proof
Fast Turnaround : 7-9 Business Days

Why Buy Custom Coffee Cup Sleeves?
Custom coffee sleeves are a great way to market your brand and add a little fun to plain white coffee cups. Protecting your customers hands from hot cups is important, and while a plain white or kraft cup sleeve will work, consider personalizing a coffee cup sleeve with your logo and personal message. Build brand recognition and customer loyalty at the same time. If you are presently 'double cupping' then a coffee cup sleeve can be of benefit! We offer different print options and paper options to fit all needs.  Customize your sleeve in 1 or 2 colors or print full color coffee sleeves. We also offer gloss or matte finishes depending on the desired final appearance. For paper choose from one of our environmentally friendly recycled papers including our recently added corrugated coffee sleeves for the ultimate insulation
More about Cup Sleeves
Why Choose Hotshot To Customize Coffee Sleeves? Simple.
Large & Small Orders
Order as few as 1,250 or as many as 500,000 custom drink sleeves. We have the equipment to handle it all and we are here to grow with you.
Standard & Premium Coffee Sleeves
Choose a more basic 1 or 2 color cup sleeve or a sleeve with unlimited colors and full background printing. Our quality is unbelievable!
Gloss, Matte, Smooth Or Embossed
We offer the most options when it comes to the finish of your sleeve.
Fast 7-9 Day Turnaround For Cup Sleeves
We offer some of the fastest turnaround times available so don't settle for 4-5 weeks. RUSH production & shipping available.
No Artwork Or Plate Fees = No Surprises
We don't like surprises nor should you. Our personalized sleeve prices include everything making ordering simple.

shop coffee sleeves
We Have Cup Sleeves To Fit Many Cup Sizes
Your customers want variety and so you most likely serve your coffee in several of different hot cup sizes. Not a problem as we offer coffee sleeve holders in all sizes! Our most common sleeve fits 12oz – 20oz hot cups, but we also make sleeves to fit 8oz hot cups and 10oz hot cups. Oh, and lets not forget your cold cups as we also produce larger sleeves to fit 16oz – 24oz cold drinks.  If you have a special size, request then we can probably make a sleeve for it!
shop cup sleeves
Highest quality offset printing
FREE design & PDF proof included
CMYK unlimited colors | 1 or 2 colors
Thick recycled biodegradable paper
7-9 business day lead time
Customize Coffee Sleeves With Logos & Graphics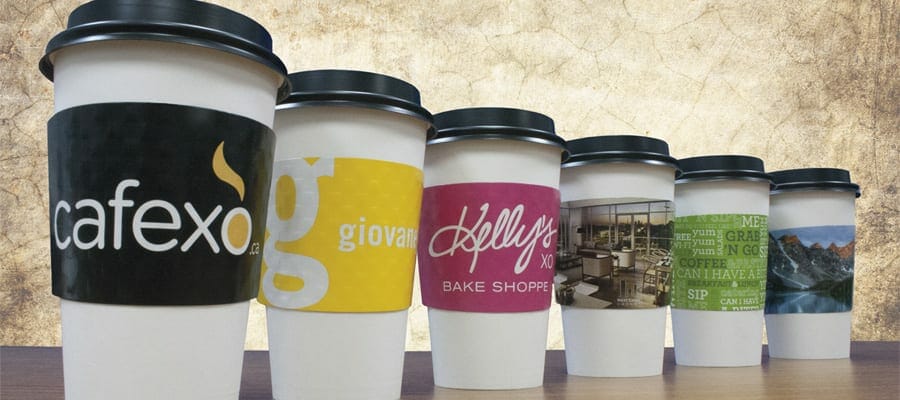 Time and time again, we hear how coffee shops would love to have a custom printed branded disposable coffee cup sleeves, however, high costs and high minimum orders have made this feat difficult. It is our goal to change this and get your message in front of coffee lovers as they hold their coffee cup! We offer a variety of options regarding color printing and quantity requirements that offer start-ups and low volume users the opportunity to have their very own hot cup sleeves. Start small and order as few as 1250 simple black and white sleeves or go big and go for a premium multicolor coffee sleeve. Either way, we've got you covered! All sleeves are made from 100% recycled paper, so you can trust us for an eco friendly alternative to visual marketing on hot cups. In addition, we print cup sleeves for cup sizes including 8oz, 12oz, 16oz and 20oz.
Custom Coffee Sleeves