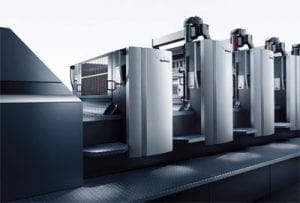 Coffee sleeve printing services in-house
We have become a market leader by offering all coffee sleeve printing services in-house. By providing all services including graphic design, printing and finishing operations under one roof we are able to produce millions of high quality sleeves at affordable prices while maintaining strict quality controls. We have also been known to work miracles and can offer less than 24 hour turnaround when time is of the essence.
Our printing history
We have our foundations in providing high quality commercial offset printing of marketing and branding materials including brochures, postcards, booklets, posters, packaging and stationery.  We have applied our keen eye for detail and demanding quality expectations to our production of custom sleeves and so when it comes to excellent color matching and fine print quality look no further than HotShot.  In addition, we offer wholesale coffee sleeve printing services to other printers and distributors looking to offer personalized cup sleeves.
Why custom printed coffee sleeves?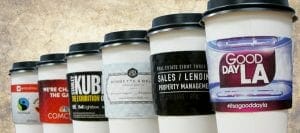 Just like with commercial printing we realize not all cafes, restaurants and marketers can order 25,000 or more custom cup sleeves at one time. Whether you are just starting out, are running a small campaign, or just don't have the room to store 1000`s of sleeves, we strive to meet the needs of clients with requirements both large and small. By coupling our understanding of print, packaging and the needs of businesses along with the development of our unique Patented sleeve design we make custom cup sleeves affordable for all. In addition our production methods and unique coffee sleeve design allow for extreme versatility when it comes to planning the use of your sleeve.
We produce our cup sleeves to the highest production standards to ensure safe use while at the same time achieving maximum visibility of your message and branding. In addition, our sleeves are some of the most eco-friendly coffee sleeves available ton the market today as we print all of our
custom coffee sleeves
with environmentally friendly soy-based inks.
What sets HotShot apart from others?